As most of you probably know, the Wheel of the Year is a schedule of seasonal feastdays which mark and celebrate the changes in nature through the year. Those of us who live in the Southern Hemisphere have the mild struggle of inverting the traditional schedule so that we are not, for example, celebrating Yule, with its burning logs and pine cones, in the middle of our summer.
Yesterday I wrote
about how I was moving towards an even more personal expression of the Wheel of the Year; for example, changing the names of feastdays for myself, just as
I have already created localised moon names
too.
The thought was timely, because all through the day I noticed some definite changes to the weather and the feel of the sky. Other people around the country mentioned to me that they had noticed the same. Today, that feeling continues. It's more than a shift in weather. The moon looks softer, the night rises earlier, there is enough chill that a blanket is needed on the bed at night. And there's a sense that I can't quite explain, but that is clear to me after many years of living very close to the weather. Autumn is stirring.
And so I have written it into my diary:
Autumn Stirring
. And I shall create a new private thanksgiving for it. The next on the Wheel is Mabon, the Autumn Equinox, one month away. I can't wait that long. Besides, this does not feel like the balancing that an equinox represents. This is more subtle, and in some ways more tenderly beautiful. I think it will be a moveable feast, because Autumn isn't usually felt this early where I live. Traditionally, we would celebrate these changes at Lammas, on February 2nd, but it's still hot summer then. But now the apples are coming down, and the roses are beginning to turn. My heart whispers of the special joy Autumn brings.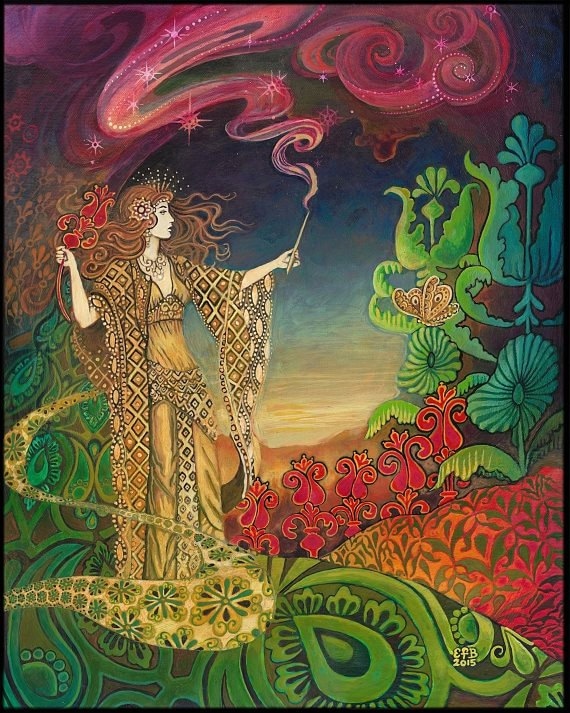 Mother, your fecund brown body shines with stretchmarks,
and smells lush with the making and giving of life,
and Mother, your laugh shudders like seagull song, thrilling my heart,
as you ease back now into softness and quiet, certain and wise,
to see how your children have fruited.
Calling this moment Lammas (merely delayed) doesn't feel right. I don't live in a culture guided by the growing, harvesting, cooking of grains. Lammas is about community responses to nature. Our relationship these days with the world is more intimate. My nature is suburban and seaborne. It is wind and moon, flowers, what food is available in the supermarket, what little changes my house needs.
I shall make an apple crumble. And light a new candle. It's too early to prepare the winter bedding, but I shall wash my Autumn shawls in preparation. Perhaps I'll create a windchime or prayer flags to hang in the window as a conversation with the wild wind god. And I will gather into myself the lessons of Autumn Stirring - the quietening needed for growth to begin, the softness needed for strength and survival.